On this site you will find information and publications on every important aspect of the Canadian art market; from art prices to artists' biographies, from auction news and activity to specialized Canadian art indices, and much more. Westbridge Publications, established in 1972, is the recognized leader in the field of business publications for the Canadian art market. Publisher and author Anthony Westbridge has been actively involved in the Canadian and international art markets for forty years, both as a publisher/writer and art dealer specializing in 19th and early 20th century works of art.


---

The Canadian Art Sales Index is now online!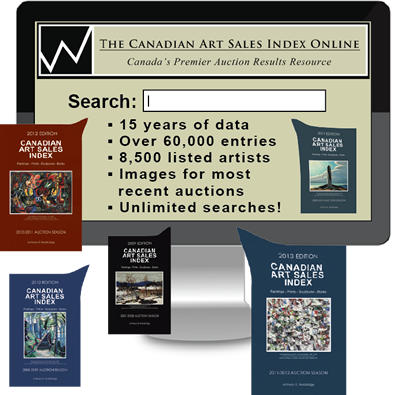 Featuring 15 years of Canadian auction results in one concise, searchable location, The Canadian Art Sales Index Online Edition is the perfect resource for hobbyists and serious collectors alike. For more details on what the CASI Online Edition includes, and for subscription information, click here or follow the menu link above.


---
Canadian Art Sales Index - first published in 1980, this annual guide to Canadian art prices at auction is now in its 37th year.
Collector's Dictionary of Canadian Artists at Auction - a four volume set that features information and cross references to over 3000 of Canada's most active artists at auction.
Made in Canada: An Investor's Guide to the Canadian Art Market - a special report that looks at the past, present and future of the Canadian art market based on the 25 year performance of the acclaimed WPL Canadian Art Indices.
How to Make Money Selling Art at Auction - subtitled Trade Secrets and Insider Advice from an Art Market Expert, this popular book tells you everything you ever wanted to know about the auction industry, and how to use it to sell your art effectively.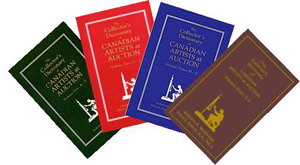 The Collectors Dictionary of Canadian Artists at Auction: 4 Volume Set
This four volume set contains comprehensive biographical listings on over 3000 Canadian artists and historical artists active in Canada during their career, from the 1700s to the present.